"

If The Static Clears by singer/songwriter Gabrielle Louise is deliciously literate and thought-provoking (thus sexy) Americana...The 11 songs befit the entrance of a new queen." - Mike Greenblatt
"

She manages to blend seemingly disparate styles of music into a captivating blend...Her voice is going to make time stand still in that it is full, rich and has great nuance in it...A beautifully crafted disc in every possible way."" - Bob Gottlieb
— No Depression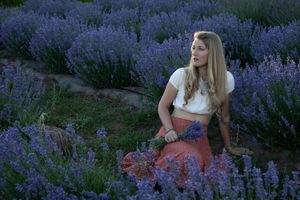 Biography
Gabrielle Louise is a songwriter and storytelling living in the mountains of Colorado. Half her time she's touring and making records, and the other half she's gardening, watercolor painting, and writing songs on her porch. 
Her live show is honest, introspective and engaging. Gabrielle's sound is anchored deeply in folk and Americana, but undeniably drawn to rich harmonies and melodic adventurism. She has the earthy feel of early Joni Mitchell while also veering into the spirited and versatile delivery of fellow genre-hopping artist Eva Cassidy. 
The daughter of two vagabond musicians who toured the country in an old airstream trailer (children in-tow), Louise inherited the predisposition to wanderlust and song. She has been described "a modern day troubadour noted for her poignant lyrics and lush voice."
 Known for her authenticity and candor on stage, Gabrielle is notably more soul than sparkle. Her performances are present and sincere, a professional presentation of her private creative world. 
Her story-telling and banter enchants, gently enticing her listener to release their grip on the status quo. You'll often find her reciting a poem, historical narrative, or a personal anecdote that's woven into the musical performance as though it were also a number in the show. Perhaps because of this quality, Louise has been entrusted to share the stage with greats such as Richie Havens, Tom Paxton, Joan Osborne, Eliza Gilkyson, and Guy Clark. 
A musical activist, over the years she has used her songwriting and stage time to fight fracking, 
encourage land and water conservation, applaud alternative energy and highlight social justice issues. 
Gabrielle has also presented a talk for TEDx, an independently organized TED (Technology, Entertainment, Design) event. Her presentation, "The Breath of Experience," talks about balancing the cycle of socialization and reflection, like inhaling and exhaling, to optimize creative expression and personal alignment. 
In the original songwriting realm, Louise has released a handful of records, the most recent of which were Mirror the Branches (2010), The Bird in My Chest (2014), If the Static Clears (2016), Live at Etown Hall, and The Unending Alteration of the Human Heart (March 2020)
"

One of the finest songwriters of her generation" - David McGee
— Deep Roots Magazine